Viluxe @ Aspen Penang
Viluxe is the first landed development in Aspen Vision City and occupies the utmost centre of the project master plan. Strategically located fronting the 25-acre Central Island Park, Viluxe is conveniently connected to other Aspen Vision City components including IKEA Batu Kawan, the Integrated Regional Shopping Centre, Vervea Commercial Precinct, VertuResort, Columbia Asia Hospital – Batu Kawan, Aloft Hotel and much more.
It is a symbolic representation of affluence, within a community which constantly sees possibilities, believes in unrest opportunities and dares to be the first movers to rise and enjoy invaluable living within an exciting and contemporary vicinity.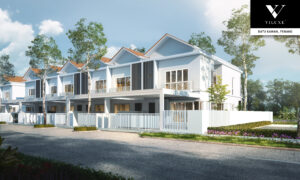 Located at Bandar Cassia, Batu Kawan.
Terrace (Strata Title)
Freehold
Built-up Area:  2,100 sq. ft – 3,025 sq. ft
Land Area: 20' x 65' – 24' x 85'
Types: Types 1 – (20' x 70', 2,358 sq. ft), Types 2 –  (20' x 65', 2,100 sq. ft), Types 3 –  (24' x 70', 2,780 sq. ft), Types 4 –  (24' x 65', 2,580 sq. ft), Types 5 –   (20' x 85', 2,330 sq. ft), Types 7 –   (24' x 85', 3,025 sq. ft)
Total Units: 170
CCTV Surveillance with Real-Time Mobile Security Alerts
Strategically located next to IKEA Batu Kawan & Integrating Regional Shopping Centre
Grand Welcoming entrance Guardhouse
Direct access to Central Island Park